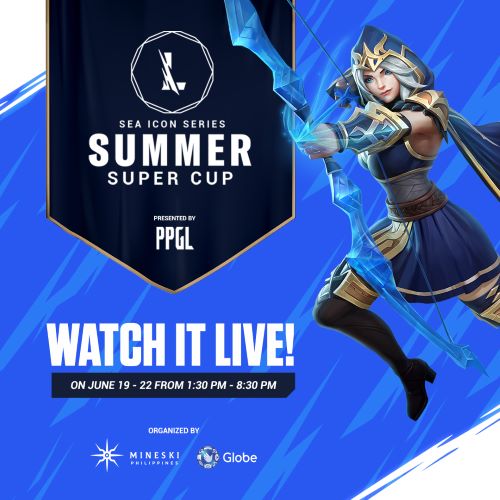 Siri Ikon 2021 Asia Tenggara (SEA) anjuran Riot Games, bakal berakhir dengan kejuaraan serantau pertamanya bagi tahun ini, iaitu Piala Super Musim Panas. Sepanjang litar kejohanan ini, pasukan-pasukan telah bertarung dalam League of Legends: Wild Rift, iaitu versi mudah alih permainan arena pertempuran dalam talian berbilang pemain (MOBA) yang mencatat lebih 660,000 muat turun di Malaysia, serta lebih 12 juta muat turun di seluruh SEA dan Hong Kong.
Siri Ikon Wild Rift SEA – Piala Super Musim Panas dibawakan oleh Philippine Pro Gaming League (PPGL), iaitu liga e-sukan multi-permainan terbesar di negara berkenaan, yang dimiliki bersama oleh organisasi esports terkemuka, Mineski Philippines dan rakan telekomunikasi jangka panjangnya, Globe Telecom. Kejohanan ini turut ditaja oleh syarikat peranti pintar antarabangsa OPPO, yang merupakan peranti mudah alih rasmi Piala Super Musim Panas.

Dari lebih 800 peserta yang layak, hanya 16 pasukan akan mara ke kejohanan serantau Wild Rift, iaitu pasukan No.1 dan No.2 dari lapan wilayah: Hong Kong, Indonesia, Malaysia, Filipina, Singapura, Taiwan, Thailand, dan Vietnam. Mereka akan bersaing merebut gelaran juara Piala Super Musim Panas yang pertama serta hadiah berjumlah USD 150,000 (~ RM620,850)
Dua jaguh tanah air yang bakal mewakili Malaysia dalam pertempuran ialah Berjaya Dragons dan Geek Fam. Berjaya Dragon telah mendominasi peringkat kumpulan ESL Mobile Open 2021 Summer: Malaysia, dengan keputusan 6-0 dan mengungguli  kejuaraan serantau dan hadiah wang sebanyak $4,845 USD (~RM20082), setelah mengalahkan Geek Fam 4-1 dalam pusingan Grand Final. Sebagai pemenang tempat kedua, Geek Fam telah membawa pulang wang hadiah sebanyak $2,422 USD (~RM10039).
Pasukan bakal menyertai pusingan kelayakan terdiri daripada MVP dan QWQ dari Hong Kong, Onic Esports dan Bigetron Infinity dari Indonesia, Amihan Esports dan Team Secret dari Filipina, ONE Team dan Flash Wolves dari Taiwan, EVOS Esports TH dan Buriram United Esports dari Thailand, Alliance dan Impunity Esports dari Singapura, serta SBTC Esports dan CERBERUS Esports dari Vietnam.
Siri Ikon Wild Rift SEA – Piala Super Musim Panas dibahagikan kepada dua peringkat, bermula dengan Peringkat Kumpulan yang bakal berlangsung dari 19 hingga 22 Jun dan peringkat 'Playoff' dari 25 hingga 27 Jun. Grand Final juga akan berlangsung pada hari terakhir.
Peringkat Kumpulan akan berdasarkan format 'double round-robin'. Semua pasukan akan dibahagikan kepada empat kumpulan yang masing-masing terdiri daripada empat pasukan, dengan maksimum 2 pasukan No. 1. Dalam peringkat ini, tiada pasukan dari negara yang sama yang akan bertarung antara satu sama lain. Sebanyak 12 perlawanan akan berlangsung setiap hari sehingga tiga pasukan teratas dari setiap kumpulan ditentukan.

Kemudian, pasukan-pasukan yang menang akan mara ke pusingan 'Playoff' berdasarkan siri 'Best of Five' dalam satu format penyingkiran tunggal. Pasukan-pasukan teratas dari setiap kumpulan akan mara ke pusingan suku akhir, manakala yang lainnya akan bertanding untuk kedudukan masing-masing.

Seperti Peringkat Kumpulan, tiada pasukan dari negara yang sama yang akan bertarung antara satu sama lain dalam pusingan kelayakan. Selepas itu, penyingkiran tunggal akan diteruskan sehingga tinggal dua pasukan teratas sahaja yang akan bersaing merebut gelaran juara Piala Super Musim Panas Asia Tenggara dan penakluk Rift.
Buktikan kemampuan anda. Serlahkan kekuatan anda. Tunjukkan semangat juara takkan gentar. Lakarlah Lagenda anda!

Nikmati penstriman langsung eksklusif Siri Ikon Wild Rift SEA-Piala Super Musim Panas di saluran rasmi PPGL.
Facebook – facebook.com/ppgl
Twitch – twitch.tv/ppgl
YouTube – youtube.com/c/PPGLGG
TikTok – tiktok.com/@helloppgl
Untuk maklumat lanjut, layari wildrift.leagueoflegends.com, http://www.facebook.com/wildriftPH atau https://twitter.com/wildriftPHL
About League of Legends: Wild Rift
League of Legends: Wild Rift is the skills-and-strategies 5v5 MOBA experience of League of Legends, now built from the ground up for mobile and console. With fresh controls and fast-paced games, players of every level can team up with friends, lock in their champion, and go for the big plays.
About Riot Games
Riot Games was founded in 2006 to develop, publish, and support the most player-focused games in the world. In 2009, Riot released its debut title, League of Legends, to worldwide acclaim. League has gone on to be the most-played PC game in the world and a key driver of the explosive growth of esports.

As League enters its second decade, Riot continues to evolve the game while delivering new experiences to players with Teamfight Tactics, Legends of Runeterra, VALORANT, League of Legends: Wild Rift, and multiple work-in-progress titles. Riot is also building the world of Runeterra through multimedia projects across music, comic books, board games, and the upcoming animated series Arcane.

Founded by Brandon Beck and Marc Merrill, and led by CEO Nicolo Laurent, Riot is headquartered in Los Angeles, California, and has 2,500+ Rioters in 20+ offices worldwide.
About Mineski Philippines
Mineski Philippines is a leader in the country's esports industry, with a slew of original esports leagues and platforms alongside nationwide tours and esports mall events organized for client brands. Mineski Philippines has pioneered every esports venture in the Philippines from our pro team to events organizing and esports marketing. For more information, follow Mineski Philippines on Facebook.
About Globe
Globe is a leading full-service telecommunications company in the Philippines and publicly listed in the PSE with the stock symbol GLO. The company serves the telecommunications and technology needs of consumers and businesses across an entire suite of products and services including mobile, fixed, broadband, data connectivity, internet, and managed services. It has major interests in financial technology, digital marketing solutions, venture capital funding for startups, and virtual healthcare. Its principals are Ayala Corporation and Singtel, acknowledged industry leaders in the country and in the region. For more information, visit www.globe.com.ph. Follow @enjoyglobe on Facebook, Twitter, Instagram, and YouTube.
About Philippine Pro Gaming League
The Philippine Pro Gaming League (PPGL) is an amateur and professional esports league co-owned and operated by Mineski Philippines and Globe Telecom. It is the largest multi-game league in the Philippines, with eight official seasons through over three years of delivering the esports experience and gaming entertainment to Filipino gamers of all types and from as many gaming communities as possible.
About OPPO
OPPO is a leading global smart device brand. Since launching its first smartphone – "Smiley Face" – in 2008, OPPO has been in relentless pursuit of the synergy of aesthetic satisfaction and innovative technology, Today, OPPO provides customers with a wide range of smart devices spearheaded by the Find and Reno series, ColorOS operating system, as well as internet services such as OPPO Cloud and OPPO+. OPPO operates in more than 40 countries and regions, with 6 research institutes and 4 R&D centers worldwide and an international design center in London, OPPO's more than 40,000 employees are dedicated to creating a better life for customers around the world.